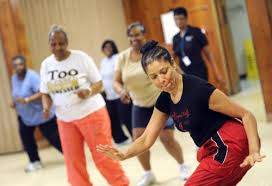 Posted October 19, 2014
Grant AME Church
October 2014 Health Topics
Scripture: Acts 17:28 New Revised Standard Version (NRSV) For 'In him we live and move and have our being'; as even some of your own poets have said, 'For we too are his offspring.'
Source: http://www.worldofhealthonline.com/the-benefits-of-physical-therapy
http://www.alsworldwide.org/pdfs/rom_exercises.pdf
Physical Therapy (PT) is designed to restore and improve motion in people's lives. Everyone has a desire to be active and move forward in life in good mind, body and spirit. As we travel along life's journey we must look for ways to grow or improve that supports a healthy Christian journey.  PT is often thought of as only useful to the sick or injured; however, PT should be a part of a healthy lifestyle.
What Are the Benefits of Physical Therapy (PT)?
No matter what area of the body pains you – neck, shoulder, back, knee – physical therapists have an established history of helping individuals improve their quality of life. A physical therapist can help you move freely again without pain and discomfort and feeling renewed and ready to move on. They know how to manage the body's major systems to restore and maximize mobility. They are able to design personalized treatment plans to reduce the risk of injury whether in everyday activities or sports.
What is the Focus of Physical Therapy?
Improve Balance and Prevent Falls: Balance may be improved with exercises that strengthen the ankle, knee, and hip muscles and with exercises that improve the function of the vestibular (balance) system. This may include a walking regimen with balance components such as changes in surfaces, distance, and elevations.
Reduce the Risk of Injury: (Soccer, football, basketball, golf) physical therapist are able to design personalized treatment plans to reduce the risk of injury whether in everyday activities or sports. PT's may develop a treatment program to improve strength, flexibility, and coordination, as well as to reduce incorrect existing patterns of movement that may be damaging to joints.
Support Recovery from Stroke:  physical therapist develop an individualized rehabilitation treatment plan which may include prescribing exercise and other activities to improve movement, help facilitate independence, and regain your quality of life after stroke.
Improve Life with Diabetes: Aerobic exercise is often recommended for the treatment of type 2 diabetes. An aerobic program offered significant advantages, helping to improve glucose control, increase strength, and reduce the risk of falls.
What are some examples of Physical Therapy?
Tai Chi (which emphasizes balance, weight shifting, coordination, and postural training)
Aquatics classes geared toward balance and coordination
Specific strengthening and balance exercises that can be performed at home
Exercise training  to correct existing patterns of movement( bending, sitting, reaching)
Walking with correct posture and balance
Passive Range of Motion exercises
If you are not currently doing any of the above PT activities start today! Get moving.