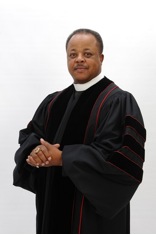 Posted March 25, 2015
Good Friday is remembered as the day on which Jesus willingly suffered and died by crucifixion as the ultimate sacrifice for our sins.  Why is Good Friday referred to as "good"? What the Jewish authorities and Romans did to Jesus was definitely not good. However, the results of Christ's death are very good! Romans 5:8, "But God demonstrates his own love for us in this: While we were still sinners, Christ died for us." First Peter 3:18 tells us, "For Christ died for sins once for all, the righteous for the unrighteous, to bring you to God. He was put to death in the body but made alive by the Spirit." Christianity.com
In the African Methodist Episcopal Church, we remember Good Friday with a service in which the Seven Last Words of Christ from the Cross are preached.  The service is generally from noon when the crucifixion began to 3:00pm when Jesus commends his spirit to the Father.
Following is a review of the last sayings of Christ on the Cross and the preachers who will deliver the related message.
First Word – Luke 23:34-35 – The Rev. J. Arthur Rumph, Grant (Los Angeles)
34 Then said Jesus, Father, forgive them; for they know not what they do. And they parted his raiment, and cast lots.  35 And the people stood beholding. And the rulers also with them derided him, saying, He saved others; let him save himself, if he be Christ, the chosen of God.
Second Word – Luke 23:39-43 – Rev. Gayle Davis-Culp, Holy Trinity (Long Beach)
39 And one of the malefactors which were hanged railed on him, saying, If thou be Christ, save thyself and us.  40 But the other answering rebuked him, saying, Dost not thou fear God, seeing thou art in the same condemnation?  41 And we indeed justly; for we receive the due reward of our deeds: but this man hath done nothing amiss.  42 And he said unto Jesus, Lord, remember me when thou comest into thy kingdom.  43 And Jesus said unto him, Verily I say unto thee, Today shalt thou be with me in paradise.
Third Word – John 19:25-27 – Rev. Larry Campbell, FAME (Pasadena)
25 Now there stood by the cross of Jesus his mother, and his mother's sister, Mary the wife of Cleophas, and Mary Magdalene.  26 When Jesus therefore saw his mother, and the disciple standing by, whom he loved, he saith unto his mother, Woman, behold thy son!  27 Then saith he to the disciple, Behold thy mother! And from that hour that disciple took her unto his own home.
Fourth Word – Mark 15:29-34 – Rev. John Cager, Ward (Los Angeles)
29 And they that passed by railed on him, wagging their heads, and saying, Ah, thou that destroyest the temple, and buildest it in three days,  30 Save thyself, and come down from the cross.  31 Likewise also the chief priests mocking said among themselves with the scribes, He saved others; himself he cannot save.  32 Let Christ the King of Israel descend now from the cross, that we may see and believe. And they that were crucified with him reviled him.  33 And when the sixth hour was come, there was darkness over the whole land until the ninth hour.  34 And at the ninth hour Jesus cried with a loud voice, saying, Eloi, Eloi, lama sabachthani? which is, being interpreted, My God, my God, why hast thou forsaken me?
Fifth Word – John 19:28-29 – Rev. Betty Hanna-Witherspoon, Primm (Pomona)
28 After this, Jesus knowing that all things were now accomplished, that the scripture might be fulfilled, saith, I thirst.  29 Now there was set a vessel full of vinegar: and they filled a spunge with vinegar, and put it upon hyssop, and put it to his mouth.
Sixth Word – John 19:30 – Rev. Darryl Walker, New Philadelphia (Long Beach)
30 When Jesus therefore had received the vinegar, he said, It is finished: and he bowed his head, and gave up the ghost.
Seventh Word – Luke 23:44-46 – Bishop T. Larry Kirkland
44 And it was about the sixth hour, and there was a darkness over all the earth until the ninth hour.  45 And the sun was darkened, and the veil of the temple was rent in the midst.  46 And when Jesus had cried with a loud voice, he said, Father, into thy hands I commend my spirit: and having said thus, he gave up the ghost.