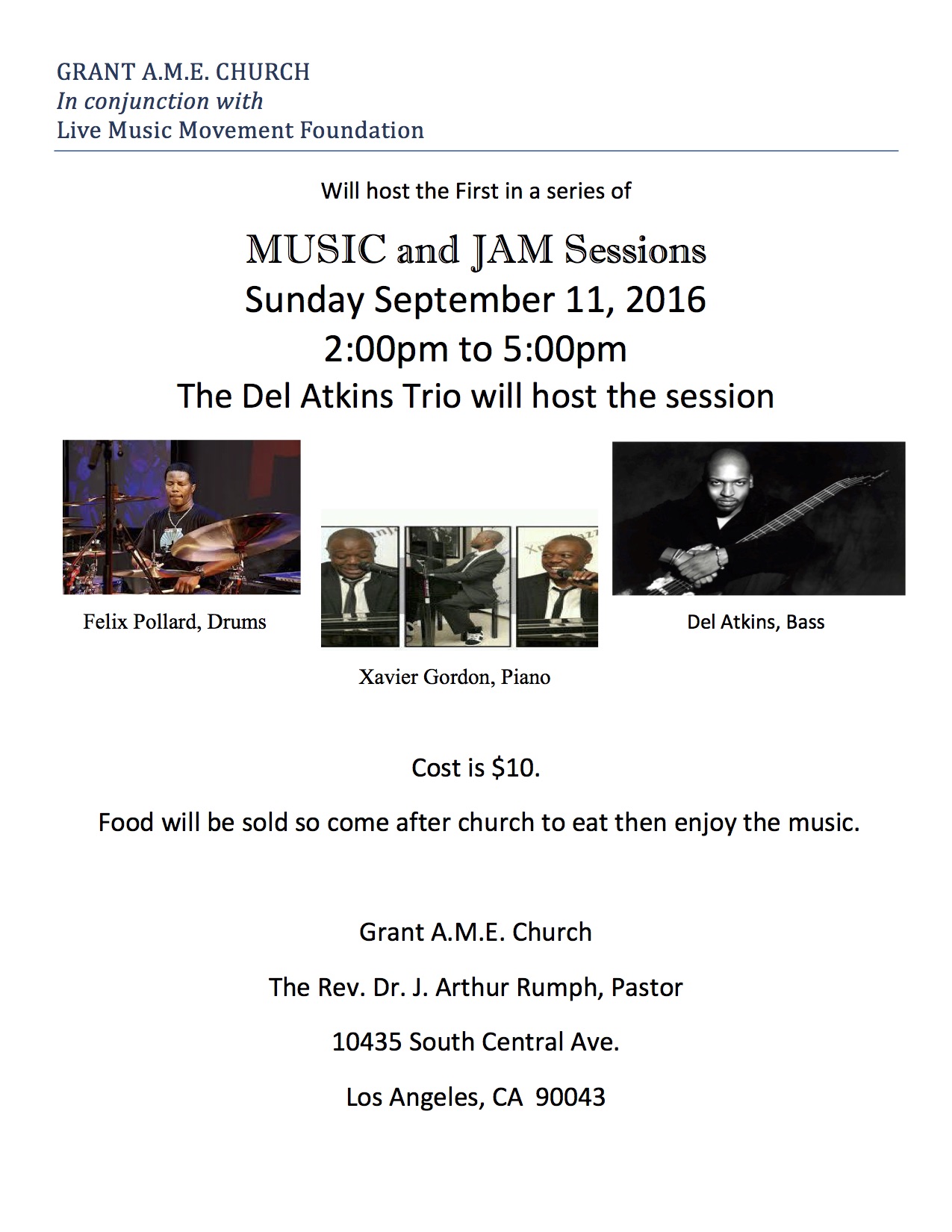 Posted September 6, 2016
Grant AME Church in conjunction with Live Music Movement Foundation (LMMF) will host a series of Music and Jam Sessions beginning Sunday, September 11, 2016, from 2pm to 5pm.  The musical events will be hosted by The Del Atkins Trio and offered in the First Unit.  Food can be purchased so stay after church to eat then enjoy the music.
The idea for the Music and Jam Sessions was developed at the Leadership Retreat in January from an exercise led by Jackie Cochran to see how we could impact the church and community with a seed gift of $10. The team of Ellary Bhimji and Kathy Drayton decided they could use their $10 as a down payment to hire a rhythm section and sound engineer to host jam sessions at Grant.
The sessions would provide a place for musicians to present quality music to members of Grant and the community and it would serve as a way to introduce Grant Church to new people. The team's aim was to attract young musicians (and old) and their associates thus introducing young adults to our church. You can help with this goal by inviting them to 'sit in' or just to listen to the music.
A jam session is a musical event where musicians play (i.e. "jam") by "improvising without extensive preparation or predefined arrangements, except for jazz standards or covers of existing songs." It is an intergenerational activity where seasoned musicians give opportunities for young musicians and others to 'sit in' and perform their choice of tunes before an appreciative audience. To ensure good quality music is presented and that only appropriate-level performers take the stage, the sessions will be hosted by the Del Atkins Trio. These are professional musicians who will help guide and direct the music.  The trio is comprised of leader Del Atkins, bass, Xavier Gordon, piano, and Felix Pollard, drums.
Join us and bring your friends and family for a fun afternoon of good music and good fellowship.
Musicians are welcomed and encouraged to attend.  This inaugural Music and Jam Session will be dedicated to Judge Patricia Mayberry for her work during the January Leadership Retreat where the idea for this event was developed.
Purchase tickets at the door or online at BrownPaperTickets.com. The cost is $10.00.