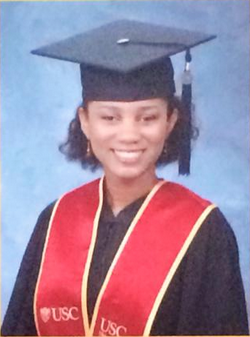 Posted July 19, 2015
Fellow Grant AME Church member and recent University of Southern California (USC) graduate, Alexis N. Jackson, directed and animated her senior thesis film, PISCES. This film commemorates her personal relationship with her father, Robert L. Jackson, in an abstract underwater experience. As a requirement for her Bachelor of Arts degree in Animation and Digital Arts at the USC School of Cinematic Arts, Alexis decided to explore and illustrate her experience of grief for her deceased father in a short film with a hybrid of 2D graphic design style and 3D environmental assets modeling and technology.
The film is based upon the emotional relationship Alexis has with her father, and expressing this notion of grief and loss through a dreamlike underwater experience. She chose this topic for her animation senior thesis film because 1.) She wanted to provide closure for this tragic event in her life, and 2.) To challenge her visual aesthetic and storytelling, in which she had not done before as an aspiring artist.
Click on the link to view her 6-minute film: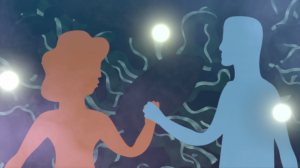 Pass it along (but do not screen publicly without Alexis' prior permission) Password:pisces2015